Water Resistance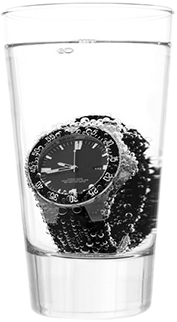 The indicated water resistance of your watch refers to the date of delivery. The water resistance does not remain constant since the sealing is subject to a natural wear and tear process. Therefore, it is advisable to have the watch regularly checked by a watchmaker regarding its water resistance. This should be done once a year or – if the watch is used for diving – even twice a year.
The norm DIN 8310 regulates the water resistance of a watch. The water resistance of your watch can be found on the caseback. The table shows which action is allowed regarding the norms. Please keep in mind that this information only refers to the static water pressure. By fast moves in the water or hitting the water surface the dynamic water pressure can exceed the permissible pressure.
| | | | | |
| --- | --- | --- | --- | --- |
| Information caseback | Splashing water | Direct water contact | Swimming | Diving |
| Water resistant | no | no | no | no |
| Water resistant 3 ATM | yes | no | no | no |
| Water resistant 5 ATM | yes | yes | no | no |
| Water resistant 10 ATM | yes | yes | no | no |
| Water resistant 20 ATM | yes | yes | yes | yes |
When using the watch in the water please make sure that all crowns are screwed on. You should never press the buttons on your watch when being in the water because water will get into the watch and will damage the movement. Ignorance of this information causes the loss of the right to claim under guarantee! For scuba-diving, only watches with 20 ATM water resistance should be used.
Water in the case
If so please bring the watch to a watchmaker immediately in order to remove, dry and clean the movement. Otherwise the movement can rust which can cause damage to its functions.